About
Check back for more information
Top Reasons to Attend
Exclusive Content – THRIVE is the only industry conference solely focused on innovations advancing mining. Learn from technical programming unlike any other in the industry and get hands-on with unique off-site technical excursions.
Growth and Success – Help ensure the future growth and success of your career and organization by staying attuned to the latest industry trends and technologies.
Real Value. Measurable ROI – Attending the THRIVE Conference provides you with the opportunity to take away valuable ideas and insight that can be put into practice at your organization, keeping you ahead of the competition.
Industry Expertise – Our panel of renowned subject-matter experts are sure to expand your horizons and provide insight and knowledge actionable in your day-to-day operations.
History of Excellence – THRIVE is hosted by SME, the leader in technical conferences for the mining industry.
Mining is thriving in North America. But for the industry to continue to THRIVE, we need to innovate. This one-day symposium offers presentations on cutting edge technologies that increase safety, improve design capabilities, and allow mining and processing under adverse conditions. What technologies are on the horizon to effect a step change in exploration, communications and productivity? Join us for dialogue and data.
At our inaugural THRIVE conference, we look to the future of technology in mining. As the mining industry embraces new technologies, more questions surface. Where can drones go? Can robots mine flooded properties? What new technologies take us under the sea? Can we safely mine below 2,000 feet without miners? Where will AI take us? Can we develop better, targeted biomining technologies? Are there laser scanning technologies that allow pre-CAD facilities to be effectively upgraded in combination with 3D design capabilities? The answers might be surprising and arriving sooner than you think.
2018 Schedule Recap
Program Schedule
Thursday, September 27, 2018
7:30 AM – 5:00 PM
Registration
7:30 AM – 8:30 AM
Continental Breakfast
8:30 AM – 9:15 AM
Keynote: Built for Earth and Beyond
Eric Reiners, Program Manager - Automation & Autonomy STLF, Caterpillar

Caterpillar has enjoyed a long and successful relationship with NASA. This presentation explores NASA's interests and goals, why Caterpillar works with NASA, the history of the relationship, and how have those collaborations impacted products and meeting customer needs. You'll even get a glimpse of what is going on today with NASA and Caterpillar.

9:15 AM – 9:45 AM
Networking Break
9:45 AM – 11:45 AM
Above All Safety
Session Chair: Jessica Kogel, NIOSH OMSHR
Session Co-Chairs: R.J. Matetic, NIOSH PMRD

Watson's Revenge or Can you 'FaceTime' Me Now? – Communications, IoT and Data Flow in Underground Mining
Dave Snyder, NIOSH OMSHR; Jack Trackemas, NIOSH PMRD; Jim Zhou NIOSH PMRD

While the MINER Act drove the adoption of handheld communications in underground mining, a second revolution in underground connectivity is on the horizon. The outdoor use of voice/text only cell phones and car phones of yesteryear have been replaced with smart phones, tablets and IoT devices used in-buildings with high data rate demands. This market-driven phenomenon has led to high data rate in-building coverage solutions. These picocells, femtocells and microcells are coming down in cost and have the potential to provide full carrier grade 5G and WiFi coverage on the working sections – it's not hard to envision a 5G wireless network, on a 1+ Gbps data backbone, connecting equipment, personnel, and sensors in a fully integrated environment. As exciting as that future is, it must be tempered with the recognition of the changes needed to properly install and maintain that capability. Fortunately, these market driven developments have led to new maintenance and installation business models that can support advanced network options over this same infrastructure, including diverse routing and traffic prioritization. In the unlikely event of a mine disaster, such advanced network capability - combined with recent military-funded research - could unlock the potential of through-the-earth (TTE) communications to provide a survivable link for assessing the post-disaster condition of both the environment and personnel.

Automation and Robotics – Building Momentum in the U.S. Mining Industry (Hang On Tight)
Miguel Reyes, NIOSH PMRD; Jeff Welch NIOSH SMRD; Jacob Carr NIOSH PMRD; Jack Trackemas NIOSH PMRD

When undersea mining is already taking place, companies have been formed to exploit asteroids in deep space, and driverless trucks are the norm in the Australian outback, change is coming to the U.S. metal and nonmetal and coal mining industries. The U.S. Bureau of Mines conducted significant research over decades, pushing the limits of technology itself, as well as technological acceptance, in a drive toward automation and removing the miner from a hazardous environment. Today those technologies are no longer innovative or novel. In fact, they have become routine in many industries. Mining is striving for improved economics, safer mines and a healthier workforce; therefore, automation, artificial intelligence and robotics are quickly becoming the norm rather than the exception. It's not just the machines that are changing as automation influences mine design, ground control, extraction techniques, environmental monitoring, and maintenance activities. As C. S. Lewis said "It may be hard for an egg to turn into a bird; it would be a jolly sight harder for it to learn to fly while remaining an egg."

When Time is of the Essence – Robotics and Drones in Mine Rescue
George Luxbacher, NIOSH OMSHR; Larry Patts NIOSH PMRD; Steve Iverson, NIOSH SMRD

While mine disasters are rare events and the industry strives to eliminate them altogether, rapid emergency response preparation is a critical component of mine rescue. Trained rescue teams follow a well-defined protocol and advance incrementally. Knowledge of mine atmospheric conditions, physical conditions and status of impacted personnel are critical components in planning that advance. Robots have been utilized for assessment for a number of years and drones with capabilities unique to a GPS-denied environment are under development. Robotics and drones together hold the promise of keeping the nation's commitment to those impacted by a mine disaster of facilitating a timely rescue of those unable to self-escape.

What's a Miner to Do? – The Changing Face of Mine Health and Safety
Dana Willmer, NIOSH PMRD; Lisa Steiner, NIOSH PMRD; Emily Haas, NIOSH PMRD; Joel Haight, University of Pittsbugh

Disruptive technologies are becoming the norm in mining. The miner has never before faced such workplace changes, nor have companies been more responsible for the miner's health and safety. The incorporation of these technologies into the workplace needs to be considered as part of the management of risk for the mine operation. While situational awareness is critical to worker safety during job performance, much happens upstream of that worker performance. The mine company needs to successfully apply the risk scale in order to ensure technologies eliminate, and don't introduce, unintended risk through changes in operational processes, equipment and work practices. The path from shovel to machine mining was arduous and difficult – how does the miner and the mine operation now transition to AI, automation and robotics via a systems approach?

12:00 Noon – 1:30 PM
Luncheon Speaker
Plasma Produced "PureWave" Graphene Nanoplatelets (GNPs): Synthesis, Properties and Applications
Ed Rakiewicz, Ph.D., PPG Industries
Sponsored by:

Graphene Nanoplatelets (GNPs) are manufactured by several different methods, producing varied platelet morphologies and characteristics that best suit different applications. The earliest approaches were "top-down" methodologies using graphite as the raw material. Recently, PPG and Raymor have commercialized a "bottom-up" process for making GNPs from methane feedstock. In this process, methane is converted to pristine few-layer GNPs directly without a substrate or catalyst in a continuous, single-step thermal plasma process that yields a unique, few-layer, crumpled morphology. These plasma GNP particles are small (~150 nm) with a relatively narrow size distribution. Their non-planar morphology imparts the particles with a comparatively weak tendency to aggregate relative to planar exfoliated GNPs, giving them excellent dispersibility in solvents and polymer matrices. This characteristic, coupled with their excellent electrical conductivity, makes "PureWave" graphene especially effective in conductive coatings, inks and energy storage applications such as lithium ion battery anodes.


During Ed's career at PPG, he has held a variety of technical and leadership positions in both product development and innovation roles. In 2017, he was named Associate Director, Innovation and his responsibilities include the identification and development of transformational emerging science opportunities and a portfolio of early stage growth projects. His accomplishments include numerous contributions in the characterization and advancement of new materials, corrosion resistant coatings and pretreatments. Under Ed's leadership, the Aerospace/Funded Initiatives Team was recognized for the commercialization of Aerocron™ electrodeposition coating for the Aerospace industry (2016 R&D 100 Award) and successful demonstration of zirconium pretreatments for DoD applications (2017 ESTCP Project of the Year-joint with Army Research Laboratory).

1:30 PM – 2:45 PM
WOW!! Mining

Horizontal Drilling for Mining Coal and Minerals Below 2000
Bubba Davis, Crazy Horse Coal LLC,

At 2,000 to 12,000 ft, deep coal seams and other deep minerals cannot be mined economically using traditional mining methods. With the advancement in horizontal drilling and steerable drill bits, it is possible to drill 7,000 ft laterals from a central location at multiple depths. Crazy Horse Coal's use of this technology, combined with proprietary drilling fluids, techniques and down hole tools, will allow the production of coal and other mineral from locations once thought impossible. Test well locations will be discussed during this presentation.

Towards Higher Productivity and Safety - Importance of Drones in the Full Scale IoT Solution for Mines
Syed Naeem Ahmed, President, Clickmox Solutions Inc.

Drones are positively affecting mining operations and bringing higher levels of safety and productivity. In the grand scheme of Internet of Things (IoT) for mines, the importance of drones cannot be overstated. As underground mines are going deeper and deeper, full scale mine automation is becoming more and more relevant and necessary. In this scenario, remotely operated and autonomous drones will play a very significant role. Mining companies are already embracing this technology and it is expected that use of drones in mining operations will soon become a commonplace.

¡VAMOS! – Flooded Mine? No Problem, Mining with Underwater Robots (Video Presentation)
Luís Lopes, ¡VAMOS!

¡VAMOS! (Viable Alternative Mine Operating System) is developing and testing a novel underwater mining system to mine inland mineral deposits in flooded open-pit mines that are currently uneconomic using conventional methods. The technology provided by ¡VAMOS! will represent an innovative, safe, clean and low-visibility mining technique. The project is currently testing the technological and economic viability of the underwater mining of inland mineral deposits following the first field trials with the equipment at the Lee Moor Mine, in Devon, UK. The second set of trials are expected later this year.

If proven viable, ¡VAMOS! will enable access to deposits whose excavation has been historically limited by stripping ratio and hydrological and geotechnical considerations. Also, due to low noise and dust levels, and its road-transportable electric-powered system, ¡VAMOS! will be able to be applied safely in both urban-proximal and hard-to-access rural locations.

2:45 PM – 3:15 PM
Networking Break
3:15 PM – 5:00 PM
WOW!! Processing

Bioextraction of Precious Metals for Green Mining
Guido Meurer, BRAIN AG, Unit Head Producer Strain Development, Frank Ladwig, CyPlus GmbH, Senior Business Manager

BRAIN and CyPlus have jointly developed an initial range of market-relevant products for the precious metal mining industry for extracting gold and silver. This work has been carried out in the area of biological ore processing. The partners recently succeeded in scaling up the process to the metric ton scale, achieving industrially-relevant yields. The process technology is now being further improved for industrial application with an expected market launch of the first range of products in 2019. The extraction of precious metals from the ores is based on the use of naturally occurring microorganisms with highly specific adhesion properties, which can be exploited to separate gold or silver specifically from ores and enrich it in an integrated process step. The biological processing methods developed by the biotech pioneer BRAIN and CyPlus, an Evonik subsidiary and globally established company in cyanides, can be used directly at the mine site. CyPlus's long expertise in the mining industry has made a process design possible that in many cases can be integrated easily into existing extraction processes.

What's Old is New Again—Using Laser Scanning Technology for Development of 3D Models and Design for Existing Plant Upgrades
Thomas Porterfield, Farnham & Pfile Engineering and Dan Yanchak, CONSOL EnergyThomas Porterfield, Farnham & Pfile Engineering and Dan Yanchak, CONSOL Energy

For existing facilities, Farnham & Pfile Engineering highly recommends the use of 3-D laser scanning to allow our designers to map existing facilities and provide an accurate model that can be used for design upgrades and retrofits.

Existing drawings are often not correct due to the changes made over time. 3D laser scanning uses portable lasers along with strategically placed targets allowing laser scans to be interconnected for a complete three dimension tool to create accurate 3-D models for engineering.

Advantages to laser scanning and bringing it into 3D computerized modeling system:

Scanning is non-intrusive and safe
Can be accomplished while facility is in operation
Eliminates time, cost, and inaccuracies of performing field measurements
Use laser scanning to create a digital model of photo-quality laser images for existing structural, equipment, chutework, conduit, and piping
Laser scanning used with the 3-D digital model for interference-free construction reducing design time.
Eliminating clashes and reducing construction costs for upgrades.


Farnham & Pfile used 3D laser scanning at CONSOL Energy's Bailey Preparation Plant to design an upgrade and retrofit project that was highly successful while maintaining production with minimal downtime and avoiding costly interferences with existing facilities.


Innovative Gold Recovery from Waste Carbon Using Onsite Ashing
Tom Rauch, Kappes, Cassiday & Associates

Nearly all gold recovery plants – whether they use CIL, CIP, or CIC processes -- have the problem of activated carbon size reduction due to abrasion. The result is carbon fines that contain a percentage of the gold value, which may be recovered by smelting, or additional stripping of the carbon in specialized equipment. Often, the fine carbon is high in mercury, mixed with a large amount of sand and clay particles, or impregnated with chemical scale all of which make it hard to handle. An alternate route to recovery is to burn the carbon and send the ash to an on-site doré furnace, or back to the cyanide leach circuit. Ashing, however, is a challenging method of fines processing for gold recovery; mineral impurities cause the burning rate to be slow, and dilute mercury vapors are difficult to capture. KCA has spent more than seven years perfecting an ashing furnace, mercury scrubber and related materials handling equipment, called the "Carbon Converter," to make this process efficient, operable, and an effective means of gold recovery.

3D Metal Printing – What's Next?
Sandra DeVincent Wolf, NextManufacturing Center & Manufacturing Futures Initiative, Carnegie Mellon University

Direct metal additive manufacturing (AM), or 3D printing, is of great interest to nearly all industries that work with metals. It offers the promise of decreased lead time, substantial reductions in the amount of material used to build a component, and the ability to fabricate complex structures not realizable by conventional manufacturing methods.

This introduction to AM includes a brief history of AM processing and a discussion of the technical fundamentals of current AM processes with a focus on direct metal AM. An overview of the state of the art in metals AM covering a wide variety of alloys and applications will also be addressed along with a look at the research that is driving the future of this technology.

6:00 PM – 7:30 PM
Reception
Sponsored by:
Speakers
We're bringing together some of the brightest minds in the industry. Check back often to learn about the industry experts contributing to THRIVE2018.
Keynote Session
Thursday, September 27, 2018 | 8:30 am - 9:15 am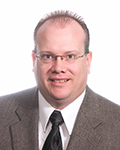 Speaker: Eric Reiners, Program Manager - Automation & Autonomy STLF, Caterpillar
Eric Reiners is a Program Manager within the Innovation & Technology Development Division of Caterpillar Inc. He is responsible for program definition and funding for Caterpillar's research focus in Automation, Autonomy, & Site Technologies.
Eric also serves as the Caterpillar liaison for program activity with NASA. Past collaborations include tele-robotic and automation technologies. Current collaborations include the NASA 3D Habitat Centennial Challenge.
During his 30-year career, Eric has held a variety of roles in machine design, analysis, testing, new technology introduction, new product introduction, product quality and reliability, as well as development of collaborative research programs with industry and government agency partners.
Field Trip
Get a firsthand look at leading technical innovation, create meaningful dialogue and get inspired by participating in an off-site field trip and technical excursion.
Murray Energy Corporation, Ohio County Mine Tour
Friday, September 28, 2018 | 8:00 am – 5:00 pm | $25 per person
Sponsored by Murray Energy Corporation
Experience a world class underground longwall coal mining operation in the Pittsburgh No. 8 Seam. Visitors will tour the longwall face, a continuous miner section, and belt conveyor terminal group. Located in Dallas, WV, 1 hour 15 minutes from downtown Pittsburgh, PA, visitors will enter the mine via the Golden Ridge Portal of The Ohio County Mine, operated by Murray American Energy, Inc. The Ohio County Mine is a 6.0 million saleable ton per year coal mining operation. The mine produces coal for thermal markets with a high heat, low ash, low moisture, mid sulfur product. The mine operates 2 continuous miner sections, 1 longwall mining system, and nearly 18 miles of conveyor.
Murray American Energy, Inc. is a subsidiary of Murray Energy Corporation, the world's largest privately held underground producer of coal.
Transportation, lunch and all safety gear and apparel provided.
Participation is limited to the first 20 registrants.
Official Conference Hotel & Venue
Sheraton Pittsburgh Hotel at Station Square
300 W. Station Square Drive
Pittsburgh, PA
Reserve your room at the THRIVE2018 Conference's official hotel at the Sheraton Pittsburgh Station Square and benefit from great rates and a prime waterfront location for this innovative conference – including Station Square's array of restaurants and entertainment.
Reserve Your Housing
SME has secured a block of rooms at the special rate of $169 plus tax per night at the Sheraton Pittsburgh Hotel at Station Square.
Reservations must be made by September 7, 2018, and are based on availability.
SME's special rate may only be obtained using the link below.
Traveling to Pittsburgh
Airport
Pittsburgh International Airport
Pittsburgh International Airport (PIT) is only 25 minutes from Downtown Pittsburgh and supports more than 171 flights per day to over 50 nonstop destinations. Find out more about this world-class airport, including taxi and shuttle information, on their website.
Driving
Flying isn't the only way to get to Pittsburgh. Driving is a convenient option for many. Attendees from nine states, Washington, D.C., and parts of Canada can drive to Pittsburgh in fewer than six hours. Find more details in this Distance and Travel Time Chart